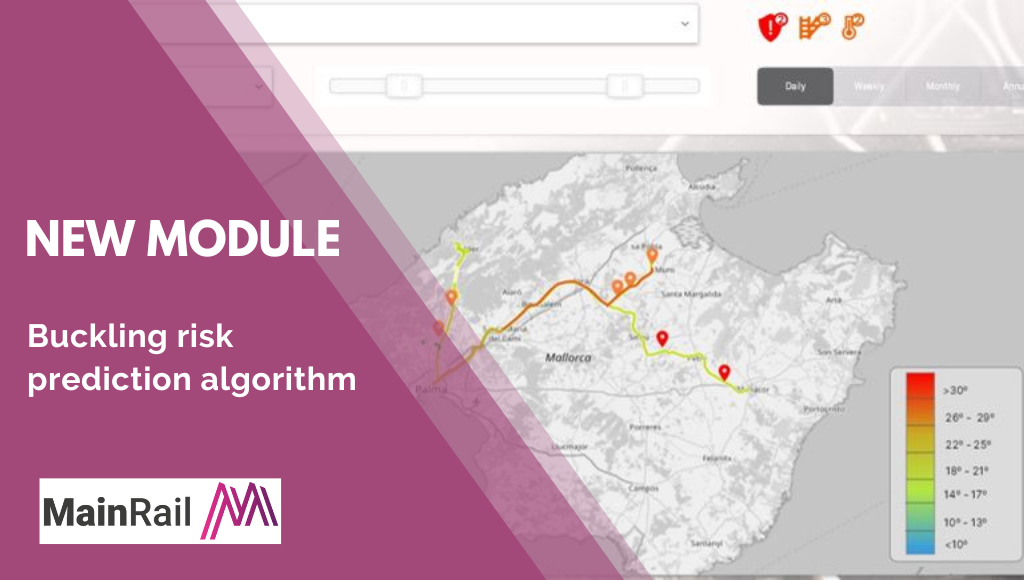 MainRail develops predictive algorithms for risk of rail buckling in ballasted tracks
Buckling on ballasted tracks is a result of the accumulation of energy in the track due to thermal variation. The technology startup MainRail has deployed a pilot of its new predictive buckling module in the Mallorca Railway Network (SFM) with the support of the construction company Azvi.
This module consists of a set of algorithms that allow predicting the temperature that the rail will reach based on weather forecasts for up to 5 days, identifying the risk of deformations in the track due to the effect of these temperatures. To validate and adjust this development, IoT devices provided by the British company Yeltech have been installed on the track to measure the actual temperature of the rail.
Thus, while the algorithms predict the risk of buckling in seven days, the IoT devices send real-time alerts of the rail temperature, which allows the algorithms' predictions to be adjusted and validated.
This predictive buckling module, which will soon be commercialised by MainRail, will be presented by the company at Innotrans, the leading trade fair for the rail industry, which takes place in Berlin (Germany) from 20-23 September.
MainRail continues in parallel to develop new predictive algorithms for track quality and rail wear, using hybrid models that combine the use of digital twins, historical track data and AI algorithms.
For the development of these algorithms, in addition to the data available in the more than 3,200 km of infrastructure already maintained with the MainRail platform, the company is closing an agreement with the Spanish railway administrator (ADIF) to access data from part of its infrastructure with which to carry out a pilot to validate the predictive algorithms. 
These advances, as well as the predictive buckling module, will be presented during the conference «Hybrid models for predictive infrastructure maintenance, based on Machine Learning and Digital Twins» on Wednesday 21 September from 16:30 to 17:30 in the afternoon during the Innotrans fair. 
In addition to the presentation, in the technology startup's own exhibition space (Hall 23, stand 220), those interested in learning about MainRail's technological solutions will be able to book an appointment during the fair through the following link.