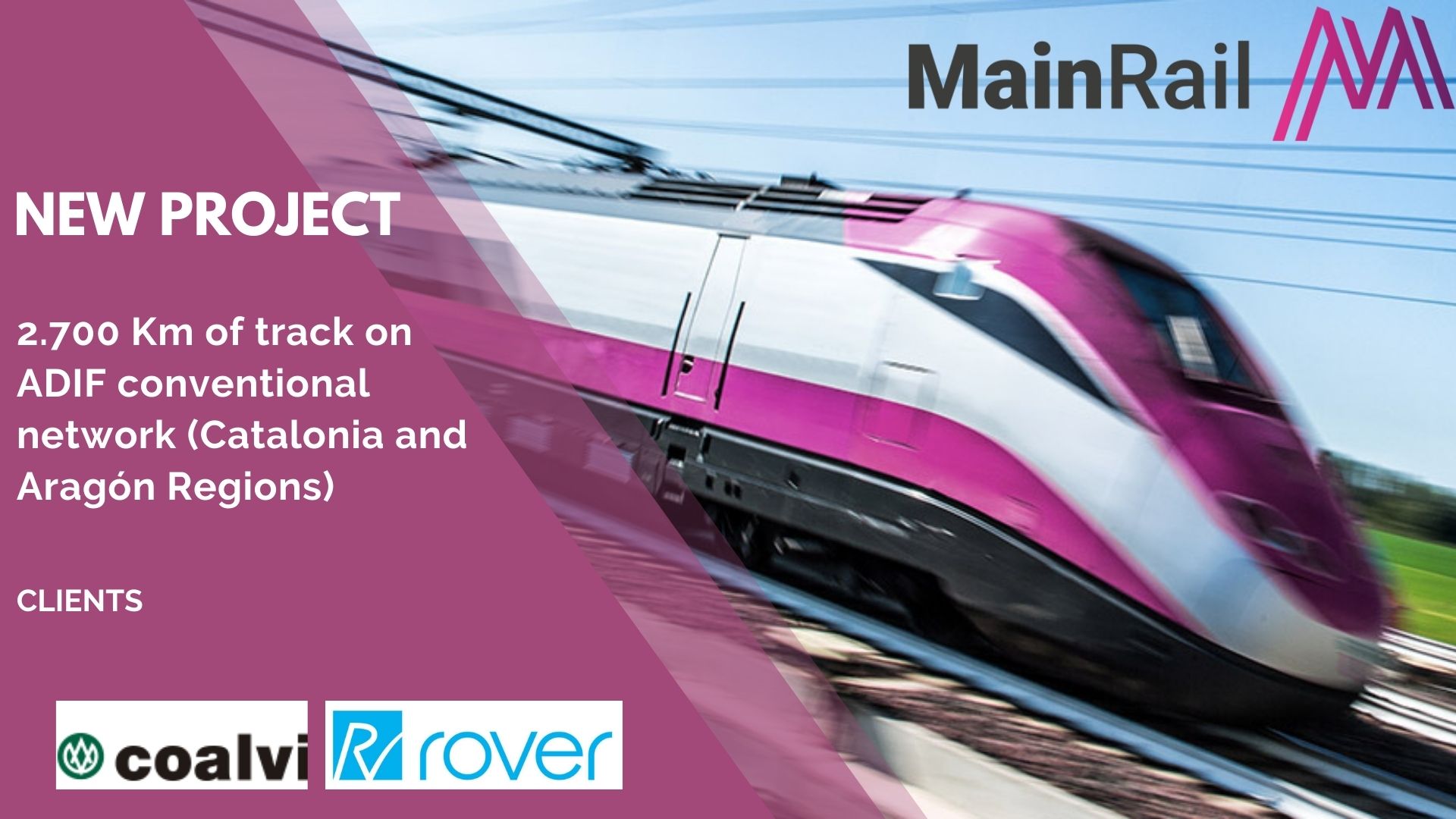 MainRail, Coalvi and Rover Rail to digitalise maintenance of over 2,700 km of rail infrastructure in Spain
 on 09 Feb 2022 09:00 AM  Spanish version below
Construction companies Coalvi and Rover Rail, alongside technological startup MainRail, are working together to digitalise the maintenance tasks of over 2,700 km of Adif rail infrastructure.
By implementing the digital platform MainRailMT, owned by the technological company, maintenance tasks carried out on the conventional railway line in Catalonia and Aragon can be managed in real time.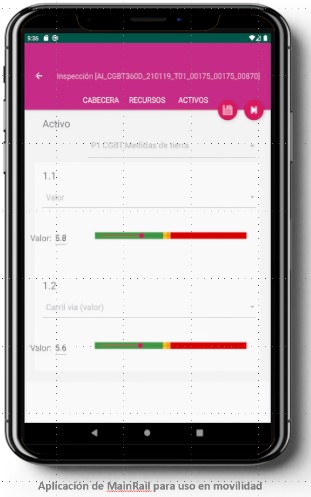 Pamplona, 9 February 2022. Railway line maintenance in the EU costs over €11 billion, according to data from the European Commission. However, in recent years, new technological developments are enabling the rail industry to improve the efficiency of its maintenance processes, increase management and safety quality, and extend the useful life of some of the assets, such as carriages and catenary, for example.
In this context, construction companies Coalvi (Aldesa Group) and Rover Rail (Rover Group) have decided to work with rail technology startup MainRail to boost the digitalisation of maintenance processes of the 2,700+ km of railway included in the "North-east Contract", awarded by Adif to the joint venture made up of both these companies. This project is one of the best examples of rail infrastructure maintenance digitalisation carried out to date in Spain, and it specifically involves the digitalisation of the conventional railway line maintenance in Catalonia and Aragon.
The digitalisation of these processes will be carried out with the implementation of the MainRailMT software, a digital platform that can be customised to help the companies in the sector manage all maintenance operations.
"Thanks to this new platform, all the parties involved in the network maintenance will have access in real time to the status and monitoring of the works, as well as all the data obtained from each one of the inspection and maintenance operations," explained Jorge Rodríguez, CEO of MainRail.
Maintenance optimisation
The MainRail platform is a software solution that combines enterprise asset management (EAM), computerised maintenance management system (CMMS) and advanced analytics. It allows the recording of inspections on site directly in the same app, thus analysing results and speeding up the maintenance of operations to be carried out by rail infrastructure maintenance workers. Not only are operations optimised to cut maintenance costs, but also the quality of the work carried out is improved and the useful life of assets is extended.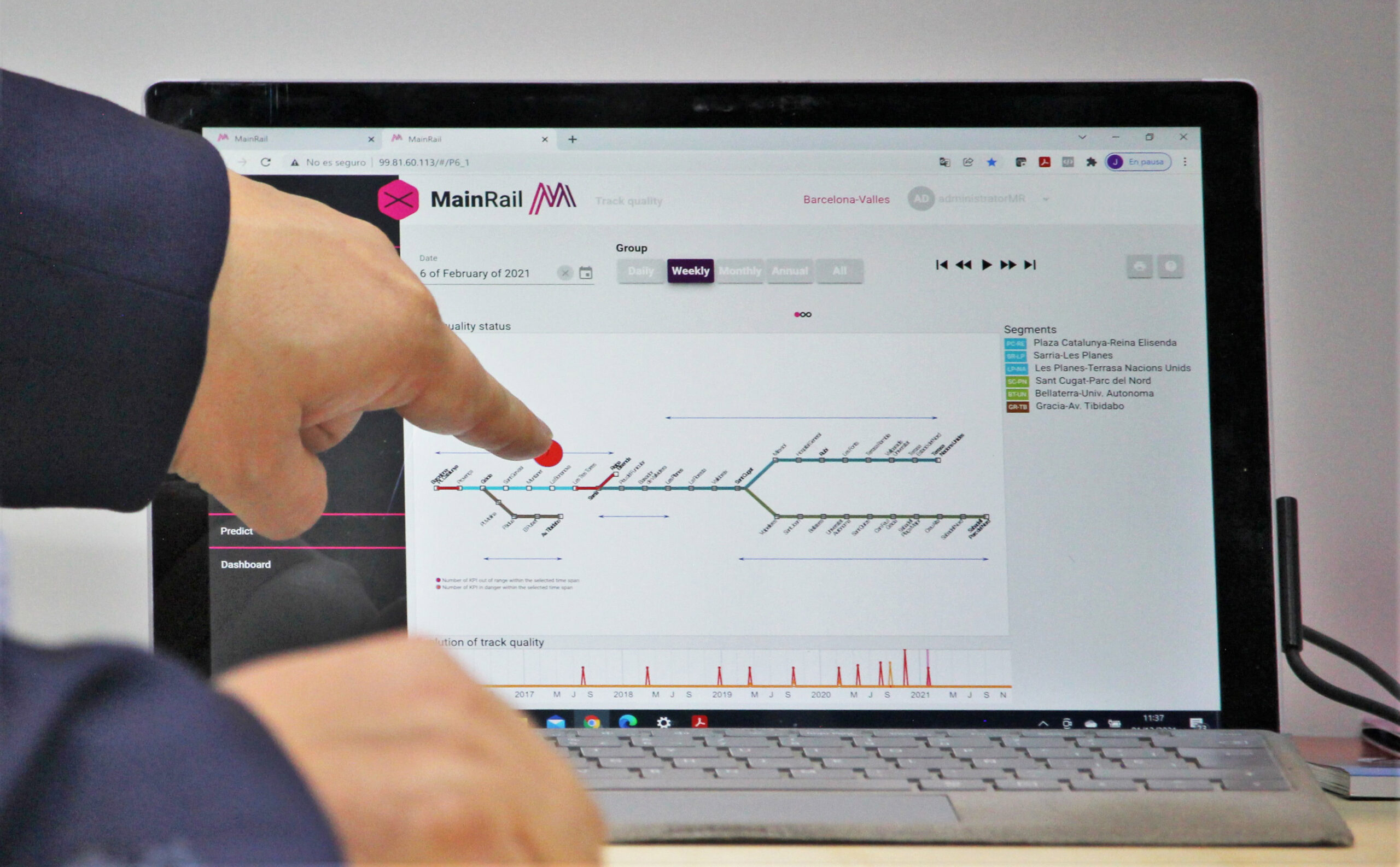 As MainRail keeps a log of all the data generated, artificial intelligence algorithms and "digital twins" (virtual replicas) can be implemented, in order to evolve towards predictive maintenance models, optimising cost management and extending the useful life of infrastructure. Moving forward, "the evolution towards maintenance models may mean that infrastructure maintenance costs are reduced by up to 25%," explained Mr Rodríguez.
About MainRail
In 2021, its first year on the market, startup MainRail, a spin-off of Ceit technology centre and Inycom, and recently named as one of 15 Spanish startups to watch in the construction sector managed to secure maintenance digitalisation contracts for 500 km of tracks in various projects. Its platform is used to manage maintenance tasks of infrastructure such as the tram in Zaragoza, the railway line in Majorca and the Basque Country, and Adif's FEVE network in Cantabria. With this new contract, MainRail faces its greatest challenge yet – over 3,000 km of tracks will now be maintained via its platform.
"What's more," added the CEO of MainRail, "the fact that two important companies such as Coalvi and Rover Rail have decided to use our platform to carry out such a large project shows that the digitalisation of the rail sector is gaining momentum. MainRail wants to be a part of this process of change and it looks like we are on the right track."
MainRail, Coalvi y Rover Rail digitalizarán el mantenimiento de más de 2.700 km de infraestructura ferroviaria en España
Las empresas constructoras Coalvi y Rover Rail y la startup tecnológica MainRail colaboran para digitalizar las tareas de mantenimiento de más de 2.700 kilómetros de infraestructuras de la red de Adif.
Mediante la implantación de la plataforma informática MainRailMT, propiedad de la empresa tecnológica, se podrán gestionar en tiempo real las tareas de mantenimiento de las líneas de la red convencional de Cataluña y Aragón.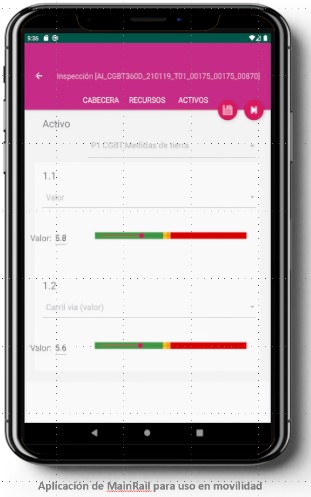 Pamplona, 9 de febrero de 2022. El coste del mantenimiento de las infraestructuras ferroviarias dentro de la Unión Europea supera los 11.000 millones de euros al año, según datos de la Comisión Europea. Sin embargo, en los últimos años, los nuevos avances tecnológicos están permitiendo a la industria del ferrocarril mejorar la eficiencia de sus procesos de mantenimiento, aumentar la calidad en la gestión y la seguridad, así como alargar la vida útil de algunos activos como los carriles o la catenaria, entre otros ejemplos.
En este contexto, las constructoras Coalvi (Grupo Aldesa) y Rover Rail (Grupo Rover) han apostado por la startup tecnológica ferroviaria MainRail para apoyarse en la digitalización de los procesos de mantenimiento de más de 2.700 kilómetros de vía contemplados en el , contrato "Lote Noreste", adjudicado por Adif a la UTE formada por ambas empresas. En concreto, este proyecto, uno de los mayores ejemplos de digitalización de mantenimiento de infraestructuras ferroviarias realizado hasta la fecha en España, incluye la digitalización del mantenimiento de las líneas de la red convencional de Cataluña y Aragón.
La digitalización de estos procesos se realizará mediante la implantación del software MainRailMT, plataforma informática personalizable desarrollada por MainRail para ayudar a las empresas del sector en la gestión de todas las operaciones relacionadas con el mantenimiento
"Gracias a la implantación de la plataforma, todas las partes involucradas en el mantenimiento de la red tendrán acceso en tiempo real al estado y seguimiento de los trabajos, así como a todos los datos obtenidos en cada una de las operaciones de inspección y mantenimiento", explica Jorge Rodríguez, CEO de MainRail.
Optimización del mantenimiento
La plataforma MainRail se trata de una solución software que conjuga funcionalidades de gestión de activos (EAM), gestión del mantenimiento (GMAO) y analítica avanzada, y que permite registrar el resultado de distintas inspecciones sobre el terreno directamente dentro de una misma aplicación, automatizando el análisis de resultados y agilizando la gestión de las operaciones a realizar por parte de los mantenedores de infraestructuras ferroviarias. De este modo, no solo se consigue optimizar las operaciones para reducir el coste de mantenimiento, sino que se aumenta la calidad de los trabajos realizados y se extiende la vida útil de los activos.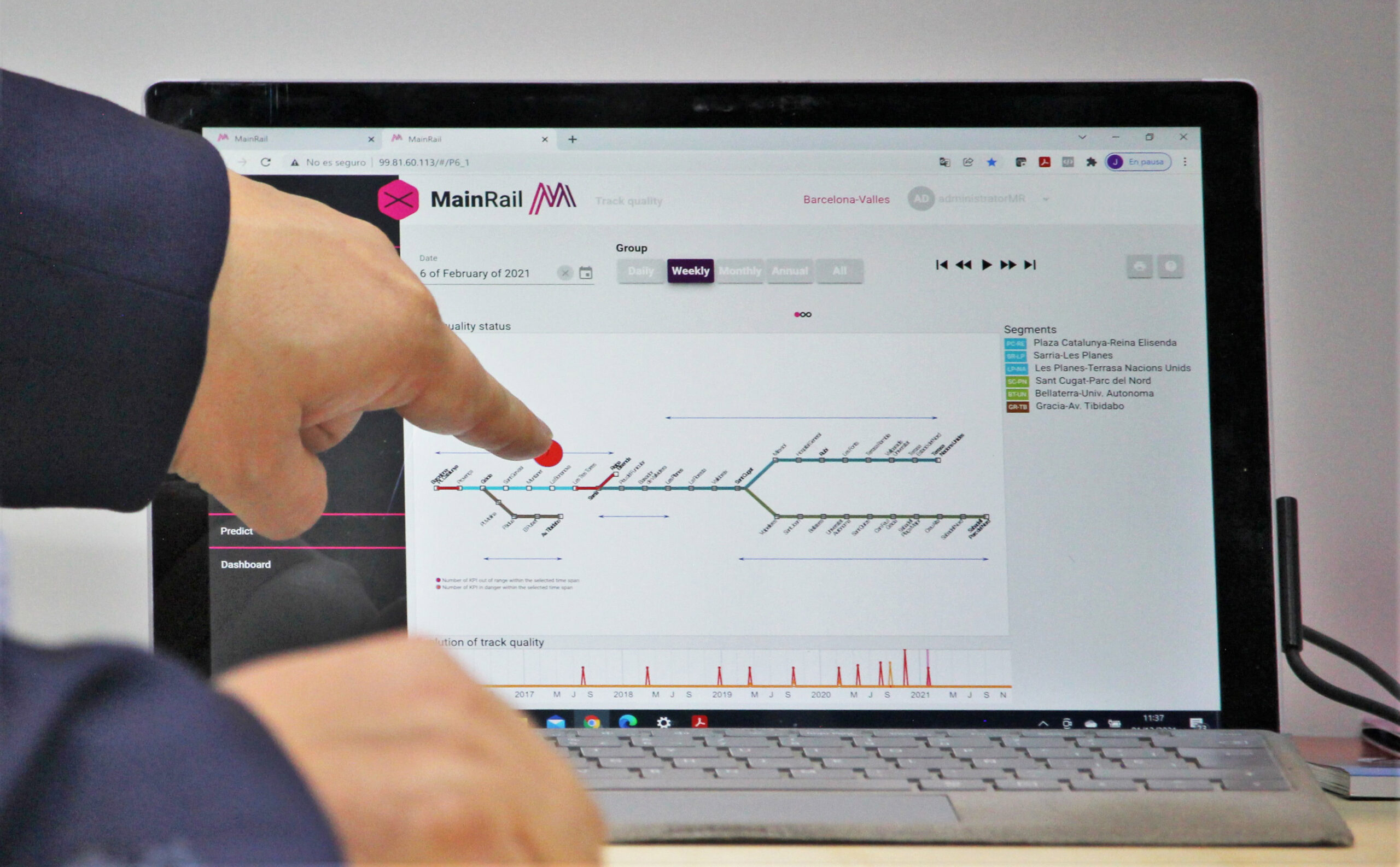 Además, al incluirse dentro de MainRail todo el histórico de datos que se van generando, se podrán implementar posteriormente algoritmos de inteligencia artificial y "gemelos digitales" -representaciones virtuales-, que permitan evolucionar hacia modelos de mantenimiento predictivo, optimizando la gestión de costes y alargando la vida útil de las infraestructuras. De cara a futuro, "la evolución hacia modelos de mantenimiento predictivo puede suponer hasta un 25% de reducción en los costes de mantenimiento de infraestructuras", precisa Rodríguez
Sobre MainRail
En 2021, durante su primer año en el mercado, la startup MainRail, spinoff del centro tecnológico Ceit e Inycom y recientemente nombrada como una de las quince startups españolas con mayor proyección del sector de la construcción, consiguió adjudicarse contratos para la digitalización del mantenimiento de 500 kilómetros de vía en distintos proyectos y la plataforma se utiliza para gestionar las labores de mantenimiento de distintas infraestructuras como las del tranvía de Zaragoza, la red ferroviaria de Mallorca y de Euskadi así como la red FEVE de Adif en Cantabria. Con este nuevo contrato, MainRail extenderá esa cifra a más de 3.000 km de vía mantenidos a través de su plataforma, su mayor reto hasta la fecha.
"Además, -destaca el CEO de MainRail- el hecho de que dos empresas de la talla de Coalvi y Rover Rail confíen en nuestra plataforma para llevar a cabo un proyecto de esta envergadura pone de manifiesto que la digitalización del sector ferroviario se está acelerando. Desde MainRail queremos formar parte de ese proceso de cambio y parece que vamos por la vía adecuada".